Posts tagged Revolvr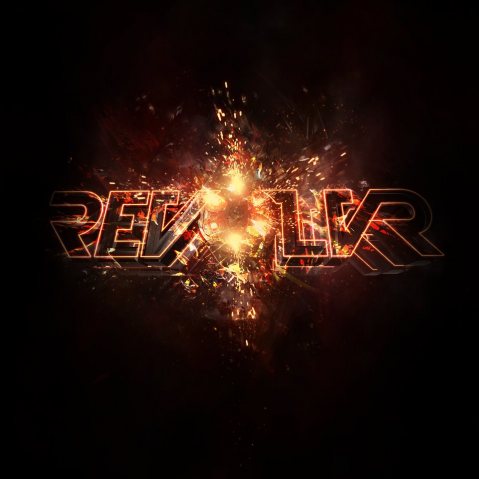 Tonight Las Vegas resident Revolvr shoots us all in the face. His ammunition? Ill-matic tracks. His weapon? The VAiN soundsystem. The chart-topping banger-maker comes to town just a month before Miami Music Week/MWC, assuring a sort of 'preview' set for the upcoming festivities. I tried to secure an interview with the man, but a busy touring schedule and constant work on upcoming projects for Bazooka Records and Bugeyed have rendered him inaccessable. Luckily for us, there's this fancy schmancy Beatport interview, which i will kindly reprint for you here:
B: Can you tell us a little about your background? Where did you grow up, and where are you based now?
R: There have been a few chapters so far. I was born in Queens, New York, where I spent my childhood. We moved to San Francisco, where I spent my teenage years, and then I spent my formative years in San Diego. And now, the next chapter has brought me Las Vegas. Oh boy…
B: How did you get started DJing and making music?
R: There was always something about electronic music that intrigued me. In high school, while other kids were listening to the radio, I was listening to groups like The Prodigy, Massive Attack, Crystal Method, Orbital, and more. In high school I became good friends with a couple of older peers who were big DJs in the underground scene. I was instantly hooked and immediately purchased my first pair of amateur belt-drive turntables. I never looked back.
B: How would you describe the music that you make?
R: Melodic, energetic and moving. I have influences across the entire spectrum, and I feel like I've digested the most compelling parts from each one and molded them into my own structure. No matter what the style may be, there's always a moving element behind the track. I put a lot of my soul into my music so that the energy just spills out of the speakers and into the crowd. Not only do I want to make people move, I want to give them an experience they can remember.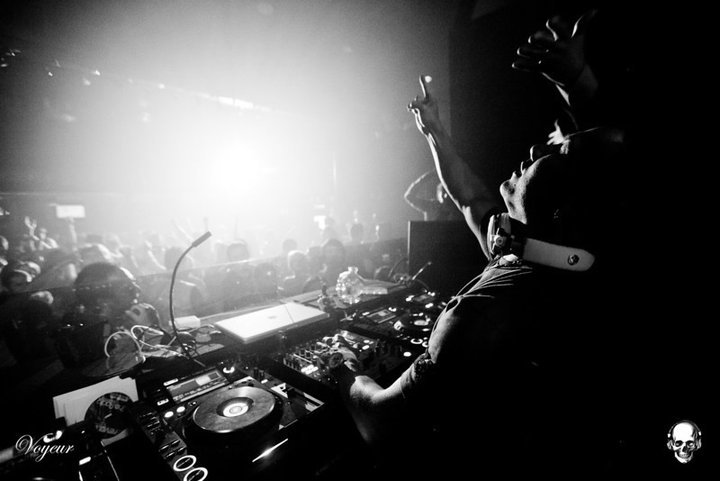 B: Do you DJ, play live, or both? How would you describe your sets?
R: I DJ, but I have some live performance tricks up my sleeve for the future. My sets are very uplifting and moving, and I like to pull off a lot of tricks and use the FX. The crowd is there to dance, and I'm going to bring it to them. I love performing, and I really get into what I'm doing. I think because I'm having so much fun when I play, it's contagious, and I love it when the crowd feels that energy.
B: Did you have any mentors when you were starting out? Who helped you get established?
R: I attended school for a bit, which helped guide me and get the gears turning. After that, all I did was geek out and learn everything myself. The most important thing to remember is that NO ONE alone is going to teach you, you truly have to discover for yourself. I will always try my best to help guide and support people with advice and tips, but ultimately, it's your dedication to the art that will move you forward.
B: When did you first feel that you had discovered your own sound?
R: I did a remix track last year for Scotty Boy & DJ Red called "4am in Vegas," which was released under my real name (Touvan) before I changed my artist name to Revolvr. I had recently returned from Burning Man, which really opened my mind, and just put a feeling into laying out this track. That was a huge breakthrough for me, especially seeing the way that it made people move. After that, I became Revolvr, and even my close friends told me, "You've found yourself."
B: How do you explain your music to your family members?

R: "DO NOT play this at church. Especially 'Warface.'"
B: Are you the type of musician who knows what kind of track you want to write before you sit down to make it, or do you create music more from a process of experimentation, trial and error?

R: All of the above. Sometimes, it just comes to me, and I have to write it down. The other night, a song and words came to me as I was going to bed, and I had to jump out of bed and immediately write it down. Other times, I just start with a blank canvas, close my eyes and let go. Sometimes I'll scrap something I worked on for days because it doesn't feel right and will re-write the entire thing several times before I'm satisfied with it. The creative process varies for me; sometimes it depends on where I am with my life, where my head is at.
B: When you sit down to make a track, what's the first thing you typically do? How long does a track typically take you to make?
R: I start with a concept, the "meat" of the track, which typically is the break and the drop, because those are parts of the track that speak to you. It's usually a 30-40 second loop. Then, when I feel I've got what I want, I unfold the rest and work on the details. As far as how long it takes, it really depends on so many things. If I'm trying to make something really dynamic and technical I'll dedicate hours to getting one loop just right. Other times, I'll bang out a track in 48 hours.
B: Where do you record?
R: I have a dedicated studio. I do also have my laptop and portable keyboard for concepts when I travel. The concept of "Beats Inside My Head" was actually made on a plane on my way back from a gig. Even though I can do a lot on the road, I like having my dedicated studio to come home to, so I can put my focus where it needs to be.
B: Do you currently have a favorite piece of gear or software?

R: [Moog] Little Phatty. I'm not very heavy into hardware, but there's something about that analog sound that makes you clench your teeth. In terms of software, I like to use Reason as a rewire to make my sounds. It's got such great sound quality and it's limitless to what you can do with it.
B: Are you a morning person or night owl?
R: I'm a total night owl. But I wake up quite early. So maybe I just think sleep is overrated.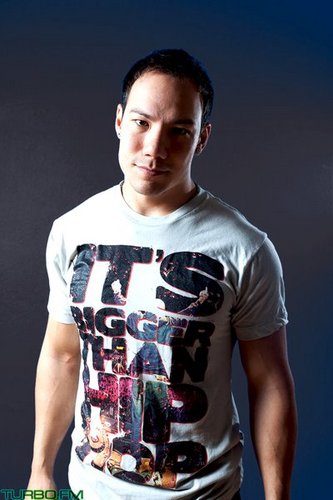 B: Which record do you wish you had made?
R: Hmm, probably any of the stuff in Michael Jackson's early legendary albums. You just can't replicate or pull that off these days. You can't. If I tried, I would just get laughed at.
B: If a wrecking ball was headed for your house, which *one* record would you rescue before it hit?
R: Reflekt – "Need To Feel Loved." It's timeless and perfect, gets me every time. And it's almost impossible to find a high quality digital version of it these days.
B: When you're not listening to electronic music, what do you listen to?
R: Pretty much everything else, from rock to classical music. It's a great way to cleanse your palette. No one really knows this, but I do a little bit of cinematic soundtrack scores, and I love it because it really opens my mind to new ideas.
B: When you're not making or playing music, what's your preferred pastime?
R: Playing Xbox live. Either Halo or Call of Duty Black Ops. Gamertag "RevolvrMusic." Bring it!
B: If you weren't a musician, what would you be doing with your life?

R: Figuring out another way to travel the world!
There you have it! See you all at Fuk'd tonight! Joey Paranoia and Nicademass are holding down the main room until Revolver steps up to bat, and the mighty Moon Baton room will be captained once again by Dr. Khan and Ma-LESS! Whooooooooo!
₩₩

SFC Presents: [fuK'd] w/ REVOLVR @ VAiN | 02.17.12 FACEBOOK EVENT PAGE
REVOLVR SOUNDCLOUD