Posts tagged laidback luke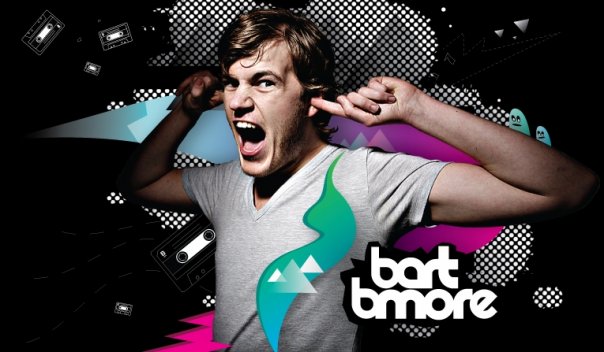 The end of Saturday/Thursday was a dark time for Orlando nightlife. The clouds had gathered because there were only so many songs released in the 80's and eventually you can hear them all, and you need something, different. Smile for Camera's Takeovr has brought a much needed new light to Orlando, and has grown to become Orlando's #1 Club night not one, but two years in a row! They took a doucher of a club, and turned it into something awesome. At the heart of it all have been Cliff T, Joey Paranoia, and Winston Wolfe, the three unassuming dudes who came out of nowhere to lead and DJ Orlando's most excitable night. Together, they and Smile For Camera are giving you a show to celebrate the official 2-year anniversary of a party that isn't just a dance night, but an entire epic experience.
Bart van der Meer, AKA Bart B More, is well on his way to being Holland's finest export! There must be something in the water over there. For years Bart has been bubbling under in the Dutch scene with a refreshing sound that blends big room electro and jackin' beats. He has consistently been crafting dance floor destroyers that have received massive support from prominent DJ's, such as Laidback, Luke, Diplo, Crookers, Switch, A-Trak, Tiesto, and Boys Noize, etc. What makes Bart's live sets special is his capacity for diversity, blending together a plethora of different styles and genres into his main-room sound.
One of Bart's biggest supporters is Boys Noize, responsible not only for pushing BMore's tracks like crack, but also for the invention of one of dance music's most interesting phenomenons, the "Brappp Sit Down" Youtube it OR look below. Skip to about 1 minute if your ADD kicks in. I want Takeovr to make this type of video. Who thinks we can do this? Just make sure when you sit down at Roxy you are able to get back up, I know a lot of you have balance issues.
For more information about the event check out the facebook event page HERE! Pregame your ears with the 6 free tracks below and the 2 vids. Check out AC Slater and Bart B More this weekend in Miami OR on September 20th, come to Roxy in Orlando and make your 'Bodywork' and 'Drop Acid'…. jk… maybe.

Bart B More & Tommie Sunshine – Bodywork
Bart B More – Brap (Original Mix)
Bart B More – Traction
Baskerville – Devils Town (Bart B More Stuiter Remix)
Cee Lo Green – Fuck You (Bart B More Remix)
Teenage Bad Girl – X Girl feat. Rye Rye (Bart B More Main Remix)
Sitdown at Berlin Festival from Jeroen Er on Vimeo.
BART B MORE
(Secure Recordings)
www.bartbmore.com
www.facebook.com/Bartbmore1
www.soundcloud.com/bart-b-more
Drop The Lime & Bart B More – The Bass! (August 2011)
ThreEPs & a weird-ass Skrillex video (August 2011)
TAI – Big Bass Drum EP! (April 2011)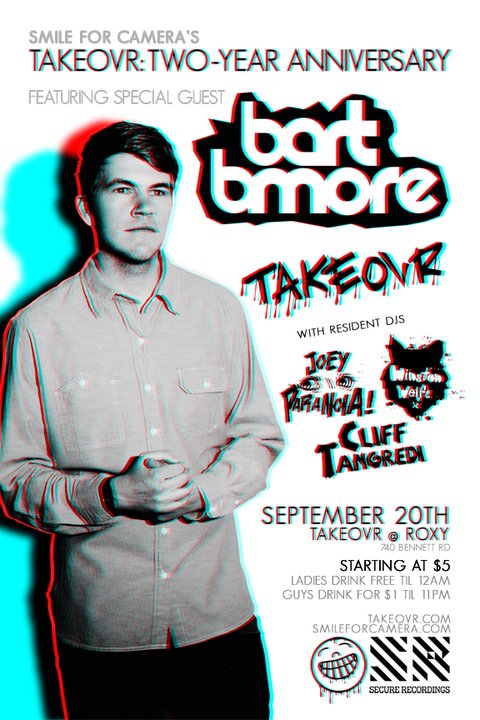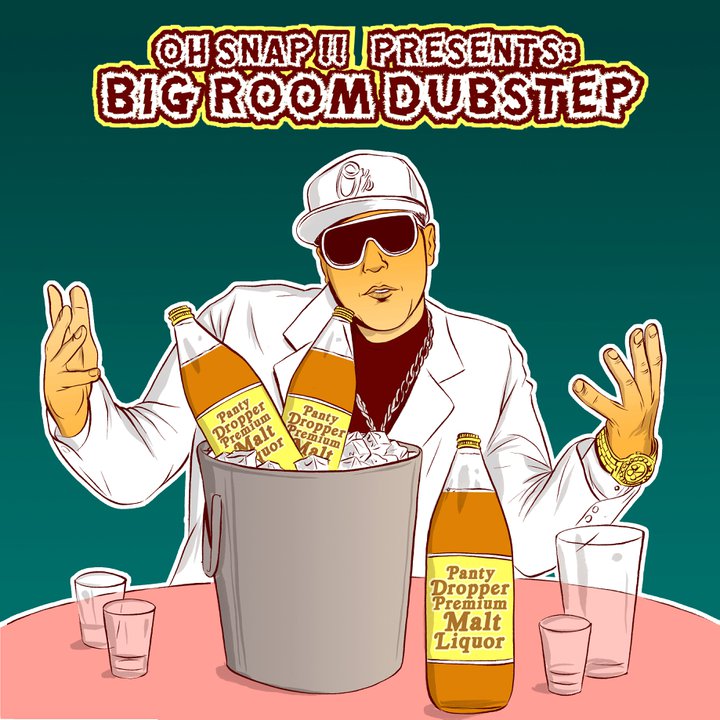 Did you get your daily dosage of dubstep bro? If you haven't OH SNAP!! has got you covered with his Big Room Dubstep Bootlegs including 4 tracks: Big Boss Is Coming Home (Oh Snap!! Bootleg), Leave The Bass Cannon Behind (Oh Snap!! Bootleg), Leave The Bass Cannon Behind (Oh Snap!! Bootleg), & I Love You Bro.
While down in Miami, this Maryland native introduced himself to SFC as Mickey Fortune. Yes, that is actually his name. Pretty sick if you ask me. But we'll stick with calling him OH SNAP!! – that name is getting places. OH SNAP!! recently sent these bootlegs to Laidback Luke who unleashed them to the Coachella crowd. NICE.
Do what you gotta do to keep tabs on this guy:
http://www.twitter.com/ohsnapmickey
http://www.iloveohsnap.com/
Oh Snapp!! – Leave The Bass Cannon Behind (Oh Snap!! Bootleg)
Oh Snapp!! – Big Boss Is Coming Home (Oh Snap!! Bootleg)
Here's a video of OH SNAP!!s buddy known as Laidback Luke dropping the Leave the Bass Cannon Behind track a Coachella!
Happy birthday Johnny! (watch the vid, you'll get it)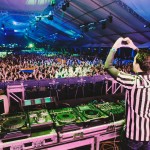 Fellow followers! I bring you today a great mix for you to start your 2011! Laidback Luke has done it again and created his yearly mix for 2010! Laidback Luke has been doing these yearly mixes for a while now delivering heavy bass and top notch House.Follow him here! Facebook, Official Site, Myspace, Twitter
Listen to the mix 24/7 it's great stuff.
Laidback Luke – Yearmix 2010
Tracklist:
01. R.O.O.S. – Instant Memories (Kriss-One Rework) w/ The Partysquad & Afrojack – Amsterdamn (Acapella)
02. Afrojack & Bobby Burns – Real High (Original Mix)
03. The Prodigy – Smack My Bitch Up (AN21 & Max Vangeli Bootleg)
04. Swanky Tunes – Across The Light (Original Mix)
05. Laidback Luke Feat. Jonathan Mendelsohn – Timebomb (Original Mix)
06. Nouveau Yorican – Jackit (Original Mix)
07. Nick & Danny Chatelain – Katrinyla (Mastiksoul Buff Buff Remix)
08. Justin Martin, Ardalan – Mr. Spock (Original Mix)
09. Dennis Ferrer Vs System F & Laidback Luke – Super Hey Hey (Tristan Garner Bootleg)
10. Tensnake – Coma Cat (Original Mix)
11. Harry Romero, Junior Sanchez & Alexander Technique featuring Shawnee Taylor – Where You Are
12. Sandro Silva – Hands High (Original Mix)
13. Major Lazer – Pon De Foley (Ludachrist Remix)
14. Afrojack – Drive By (Original Mix)
15. Bingo Players – When I Dip (Gianni Marino Remix)
16. Vandalism – Throw Your Hands Up (Angger Dimas Remix)
17. Congorock – Babylon (Dub Mix)
18. Swedish House Mafia – One (Congorock Remix)
19. Tai – Rocking The Set (Original Mix)
20. B.o.B – Nothin' on You (feat. Bruno Mars)
21. Wynter Gordon – Dirty Talk (Laidback Luke Remix)
22. Sandro Silva – I Told Ya (Apster Remix)
23. Itch-E & Scratch-E – R.E.f.r.E.s.h. (Tom Piper Remix)
24. Green Velvet – Harmageddon (Original Mix)
25. Afrojack Vs. Radioclit Vs. Armand van Helden – I Want Your Divine Control (Laidback Luke Mash Up)
26. Robyn, Laidback Luke – Indestructible (Original Mix)
27. Martin Solveig & Dragonette – Hello (Sidney Samson Remix)
28. Swedish House Mafia – Miami 2 Ibiza (Instrumental Mix)
29. Carte Blanche – Do! Do! Do! (Laidback Luke Remix)
30. Drop The Lime – Hot As Hell (Canblaster Remix)
31. Green Velvet – Flash (Nicky Romero Remix)
32. Sidney Samson – Fill U Up feat. Sicerow (Club Mix)
33. Adrian Lux – Teenage Crime (Axwell & Henrik B Remode)
34. Laidback Luke – Till Tonight feat Jonathan Mendelsohn (Original Mix)
35. D.E.R. & Julius Beat – Our feeling (KhoMha remix)
36. Wolfgang Gartner – Undertaker (Original Mix)
37. Michael Woods – No Access (Original Mix)
38. Calvin Harris – Flashback (Accapella)
39. Calvin Harris – You Used To Hold Me (Laidback Luke Remix)
40. Jay Robinson – Optimal Grime (Original Mix)
41. Adam F & Horx Ft. Redman – Shut The Lights Off (Caspa & Trolley Snatcha Remix)
42. DJ Die & Interface feat. William Cartwright – Bright Light (Original Mix)
43. Noisia – Shellshock ft. Foreign Beggars (Split the Atom)
44. Andy Milonakis – Chickentown (Original Mix)
45. Drake – Drake Over (Big Syphe Bootleg)
46. Steve Angello vs. Dr. Dre – Knas Episode (Laidback Luke & Junior Sanchez Mashup)
47. Avicii & Sebastien Drums – My Feelings For You (Original Mix)
48. Uffie feat. Pharrell – Add SUV (Armand Van Helden Club Remix)
49. Duck Sauce – Barbara Streisand (Ziggy Stardust Bootleg)
50. Boys Noize – Yeah (Original Mix)
51. iSquare – Hey Sexy Lady (Laidback Luke Remix)
52. Bart B More – Brapapella (Original Mix)
53. Kris Menace feat. Emile – Walking On The Moon (Respect To U-Tern Edit)
54. Mary J Blige vs. Fragma – Miracle Fine (ID Bootleg)
55. Tim Berg – Bromance (Instrumental Mix)
Robin Osgood
WMC25 Fools Gold 03.25.10
Read the full story for 3 new tracks from SonicC and Boys Noize!