Posts tagged dirtyphonics

Last year, SFC was honored to be invited to photograph both Smog vs. Basshead and FSOB. What we learned is that packed between the two events is every single powerhouse dj who has either already made their mark on the scene, is trending now or that will be blowing up soon in almost every electronic bass heavy genre (read: not too many house or trance headliners, sorry guys, but you will always have Club Space).
This year will be n
o different, and as FSOB gears up to celebrate its 10th anniversary on Friday, Smog and Basshead have teamed up for the third time to bring miami the biggest collection of heavy hitters of bass under one roof. Low-end afficionados will find themselves right at home in Mekka's many cavernous rooms.
The event will bring together the biggest artists from national labels and recording crews UKF, Smog Records, Basshead, Metalheadz Music, Trouble & Bass, with some of the best local talent from crews hailing from NYC, WPB and Miami's bass scene.
To get you psyched and ready for Thursday, check out some songs from some of the artists performing below, and make sure you check out photos from last year's madness.
Tickets are still available for the event, and can be copped thru wanttickets for $30 for general admission. So break open your piggy bank, die hard bassheads, this is where you're going to want to be come Thursday night.
Pro Tip: Mekka is HUGE and this place gets packed. Make sure you designate a meeting spot as it is somewhat easy to lose people and hard to hear cell phone calls in there.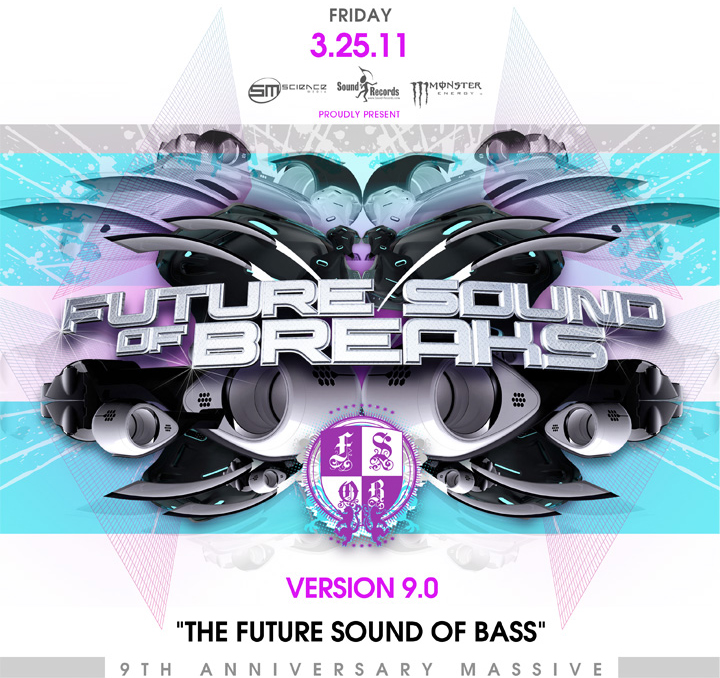 Future Sound of Breaks is one of those quintessential parties that has grown and grown in both size and popularity over the 9 years of its existence. What started out as a single room breakbeat party will this year be a "5 room massive showcasing breakbeat, electro bass, dubstep, drum & bass and bassline breaks". This year's party promises to be as exciting as the rest, which have been known to go strong into the wee hours of the morning. Taking place at Mekka, FSOB this year will play host to a slew of exclusive sets including a special Dirtyphonics live set and an exclusive bass set from Miami's own Craze.
This year, the FSOB franchise will also be hosting a special Sky Rise event in which fans get a chance to meet and greet the FSOB artists, an exclusive event limited to 250 attendees. While smile for camera has not yet been fortunate enough to shoot an FSOB event, this year, we became cool enough to have the chance to talk to the party's creator Glyn Morgan about his impressive event, and got an inside look at the evolution of the event, which at this point has earned itself the right to be called a "massive".
Smile for Camera will be on-site this year to capture the insanity, best to start pumping yourself up now. My suggestion: get plenty of sleep early this week (you're gonna want it, trust me) then at around 3pm Thursday afternoon start mainlining red bull and watch this video on repeat until you want to run laps around your chihuahua.
That's when its time to party. So, in anticipation for one of the rowdiest events of the week, check out the exclusive interview, and preview some of the FSOB artists tracks below.

FUTURE SOUND OF BREAKS • Exclusive Interview • Celebrating 9 years of dedication to the masses!

SFC: When you started this party 9 years ago, what were you aiming to achieve?
GM: Educating the masses on the sound that I fell in love with from the first underground rave I attended back in late 1994 @ the Orange County Convention Center. From that day on, I dedicated my life to the music that made me want to express myself through dance. I ultimately started out in this industry as a toprock dancer & performed on stage for many great artists over time, including the likes of DJ ICEY, DYNAMIX II, UBERZONE and countless others during the infamous rave hayday in the 90′s. I then realized I also had a passion for marketing, design & talent scouting, which led me into the role I play today. In 2002, I produced the 1st FUTURE SOUND OF BREAKS Soundstage at the ULTRA Music Festival, working with the festival until 2007 & being the inception of the brand. In 2003, I premiered my FSOB concept as an exclusive club event during the Winter Music Conference & the rest is history.

SFC: What makes FSOB the cant miss party?
Diversity is the name of the game when it comes to the FSOB organization. In 2011, we offer a large variety of bass music within the brokenbeat spectrum, including breakbeat, dubstep, drum & bass, electro bass, bassline & everything in between. Not to mention the fact, we will have over 3,000 raging fanatics all under 1 roof at Mekka, definitely a sight not to be missed. Truly an evening of epic proportions.

SFC: How do you think the wmc/ultra split is going to affect the mood, and ultimately the success of FSOB?
Honestly, I don't think it is going to play such a factor in things as people initially thought. At first, it was definitely a surprise to everyone in the industry & fans alike, an unfortunate state of affairs. Fortunately though, we are looking to have our biggest year yet & ticket sales are at an all-time high. Ironic I know. The show must go on!

SFC: What should the first time party attendee expect when they walk into FSOB?
Pure madness, in the best way possible!

SFC: What artists would you absolutely recommend they not miss?
DIRTYPHONICS LIVE exclusive 90 minute live performance • DJ CRAZE exclusive bass set • PLANET OF THE DRUMS reunion!

SFC: For repeat attendees, whats different, new?
1st ever performances by: DIRTYPHONICS LIVE • ZEDS DEAD • DOWNLINK • VASKI • BARE • MRK1 • HIVE • PLANET OF THE DRUMS • EXZAKT LIVE!

SFC: What do you think is in store for the future of bass?
More mainstream media exposure, moving the sound of bass music into the forefront of the music industry. Major deals with big record labels, more performances at large festivals, the works. All around moving in a great direction & excited to see what the future holds. Bridging the gap between different sub-genres, the future of bass is bright.

SFC: Do you feel that the insurgence that dubstep has recently made has had a negative impact on breaks? Does real breakbeat still thrive?
My token optimistic self thinks that dubstep is ultimately the next generation of the breaks & brokenbeat community. Dubstep is taking the world by storm & personally I am a big fan of the genre. Artists like MAGNETIC MAN, NERO, FLUX PAVILION etc. are taking the music to new heights & keeping it intelligent with their sound. The dub sound actually reminds me of breakbeat in a variety of ways, hence why we have integrated dubstep into the FSOB Massive & on select tour events throughout the year. Breakbeat artists are alive & well…breakbeat supporter for life!

SFC: FSOB has been around for 9 years now, and shows no sign of stopping, tell me a bit about its evolution, how it has changed, grown.
Future Sound of Breaks started out as a 1 room breakbeat & electro bass event. It has grown into a 5 room massive showcasing breakbeat, electro bass, dubstep, drum & bass and bassline breaks. We have to evolve as an organization & appeal to all audiences, so featuring a wide variety of brokenbeat genres is truly what will make the fans happy & make the brand continue to grow in the days & years to come. We have a very loyal team of individuals who make up the FSOB organization & truly couldn't do what we do without everyone playing their part for the greater cause.

SFC: What are some of the major highlights from previous years?
STANTON WARRIORS @ FSOB 5 • FREESTYLERS @ FSOB 6 • SKREAM, BENGA & MALA @ FSOB 7 aka FSOB vs. VIRAM • MONSTERS OF JUNGLE @ FSOB 8

I would just like to conclude this interview by saying that we have much respect for all the artists & fans that have taken part in the history of the infamous FSOB brand & continue to support us in the future!

We appreciate you! Thanks Smile for Camera!

- Glyn S. Morgan
CEO • Creative Director
Future Sound of Breaks
AND NOW FOR SOME BASS:
EXCISION –
By now you know who the eff excision is. And if you don't there's probably something wrong with your hearing and you should go get that shit checked out. If you thinks its all good tho, check these out:
Excision – Shambhala 2010 (Track Listing)
Excision & Datsik – A Millie (Remix)
Excision & Datsik – Swagga
DIRTYPHONICS –
You know how we love our frenchies. Composed of Pho, Playte, Capskod, and Pitch-In, these french producers have made a name for themselves by having unique production skills and insane live shows.
The Bloody Beetroots – WARP (feat. Steve Aoki) (Dirty Phonics Dubstep Remix)
Shock One – Polygon(dirtyphonics Remix)
FREESTYLERS –
This British break beat group has come a long way in their musical evolution, and dont often make Florida stops outside of "conference season". Their sound has evolved lately into a heavier, more bass heavy drumstep sound. You've more than likely heard their track "Cracks" which has been featured on countless mixes.
Freestylers feat. Belle Humble – Cracks (Flux Pavillion Remix)
Freestylers – Bounce To This
Freestylers – Say Yes (Raw As Fuck Remix)
REID SPEED –
This chick can throw down. A seasoned performer, Reid Speed is known to play just about any genre of music to make the crowd move. If you havent already, check out her awesome mix from a few months back showcasing her dubsteppy awesome.
Reid Speed's Bass Fueled Mischief Exclusive Promo Mix by Reid Speed
ZED'S DEAD –
Miami had a chance to preview Zed's Dead at get low late last year at the vagabond, witnessing first hand that Canadians can freakin rock.
The Rolling Stones – Gimme Shelter (Zeds Dead Remix)
Check out our previous post for more music!
PLANET OF THE DRUMS -
Founded during the summer of 2000, the Planet of the Drums is the alliance of four of America's most popular drum and bass DJ's: AK1200 , DJ Dara, Dieselboy, and MC Messinian. This is like, the supergroup of the drum and bass world.
Planet of the Drums – 2002 Tour Performance
AK1200 – Drowning (Terravita Remix)
Dieselboy – Unleashed!
DOWNLINK –
Yet more proof that they love their bass up in the cold northern regions of our great continent, Downlink brings his own special brew of that heavy sound that's become the very definition of dubstep. For more music check out his facebook
Downlink – The Keeper (Original Mix)
Downlink – Biohazard
VASKI –
Vaski has Excision to thank for his success, but that doesnt mean that Minnesota born producer can't stand on his own. Here are a couple tracks for your enjoyment, but there is lots more music available for download on his website.
Flux Pavillion – Voscillate (Vaski Remix)
Rektchordz – Speaker Bump (Vaski Remix)
There will be so many more artists performing at FSOB that I could spend all week scouring the wide world of music for more and more tracks for you to preview, or you could just buy yourself a ticket and head on out, save us both the work and you the whining later when you miss this.
More info:
Future Sound of Breaks – Facebook
Buy Your Ticket!
Event Pages:
Future Sounds of Breaks 2011 – Facebooks
FSOB Skyrise – Facebook