Posts tagged Datsik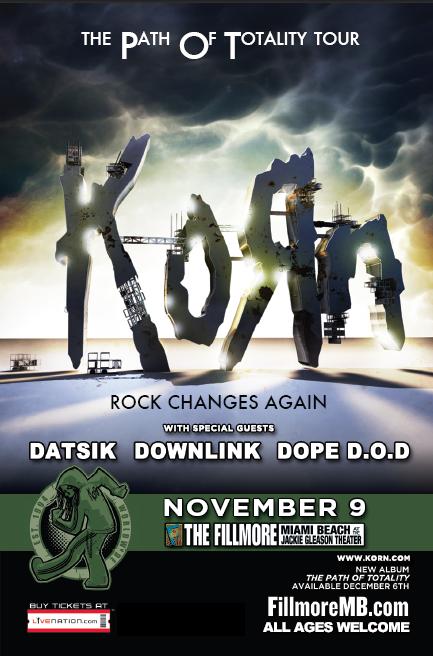 With a mix of "sirenlike shards of dissonant guitar that mimicked a turntablist's various effects and rumbling down-tuned riffing that defined the nu metal aesthetic"
KoЯn
tore into the music scene in the mid-'90s. With primary influences including Metallica, Sepultura, Faith No More, Red Hot Chili Peppers, Helmet, Rage Against the Machine, Slayer, Pink Floyd, Primus, Tool, Ministry, Mr. Bungle, Biohazard, Nine Inch Nails, Pantera, Beastie Boys, Black Sabbath, and Jane's Addiction, the Band's sound became synomous with an entire's generation angst, rockers where born, and ball chain necklaces as thick as your wrist became required garb for legions of 7th graders.
Fast forward 20 years and we're all a much older, and while we may not be listening to KoЯn or making romantic mixtapes out of Deftones tracks, there is a new generation making its own mark on the head banging side of musical culture. It isn't hard rock that they are attracted to however, and its becoming more and more clear that what metal and rock was to us, dubstep has become for the throngs of adolescents breaking their way into adulthood.
Obviously, the guys from KoЯn are aware of this likeness between what they brought to the table and what dubstep is doing for younger generations of music lovers. They even recently caused quite a stir when they released a track with Skrillex. So it only makes sense then, that legendary nu-metal band, KoЯn, despite its change in lineup over the years (tbh, I still don't know how I feel about Silvera's departure) would team up with dubstep heavy hitters Datsik and Downlink. Togther, they hit the Fillmore on Wednesday for the Miami stop of their Path of Tonality Tour
Oh, and one little bit of KoЯn trivia for you design freaks out there, the now uber-recognizeable KoЯn Logo was designed by Davis himself. And here I was thinking they just didn't know how to spell…or write. At any rate, here are some sample tracks. Think of it as that little tickle you get between your legs when you know something good is about to happen.
Korn Feat. Skrillex & Kill The Noise – 'Narcissistic Cannibal' by kornofficial
Don Diablo ft. Dragonette- Animale (Datsik Remix) by Datsik
Get Tickets for the Show HERE
FB Event Page
For More Music:
KoЯn on Soundcloud
Datsik on Soundcloud
Downlink on Soundcloud
Panera probably isn't the best setting to listen to a track like this but it's just so hilarious. I can't help but to laugh as I blast this song in my ears and look to my left to see a charming old couple eating their salads to the classical music playing throughout the bakery-cafe.
Only a day old and you can tell this song is an instant banger track. Add some womp, Kay's infectiously sweet voice, wicked synth and the collab between two production magicians Diplo and Datsik – you get this track bound to be a huge club anthem.
Whatever poison you pick, get down to this shit. Promise you will never quit.
Diplo & Datsik-Pick Your Poison feat. Kay by diplomaddecent
More Datsik at
http://www.twitter.com/datsiK and http://www.facebook.com/djdatsik
And more Kay at
http://www.twitter.com/kaymusik and http://www.facebook.com/Kaymusik