Posts tagged crizzly
Dubvibes is back and bringing the new year with an intense dose of bass for Ft. Lauderdale's enjoyment, and this time around, they're bringing out the big guns with
Bare
, aka Sean Rodela. With releases on Subhuman, Play Me, Buygore, other heavy-hitting dubstep labels, 2011 has been a HUGE year for this LA based tune maker. If you haven't heard his music before, its the kind of ear melting face ripping bass laden tunes that the artist has affectionately labeled as Barestep.
If you want more background on Bare, I strongly suggest that you go read his facebook, (might as well 'like' him while you're there) his mother wrote it for him, and who could know him better than his own mother? beats me…
Joining him for this 4th installment of dubvibes is Texan native, Christopher Lee Marshall, Crizzly. The young dj and producer is known for messing shit up in San Antonio night clubs, and no doubt he'll be bringing his "everything is bigger in Texas" mentality to grace us with some booming beats.
As always, Dubvibes will once again be 18+ with ID, and will be hosted by Special K and Jumanji and will also feature perfomances by Big Chocolate, Josh Money, Renegades of Funk, Dubviking and Soular vs Alphaxero.
Of course, Smile for Camera will be on hand to take photos of your gorgeous faces, so make sure you dress the part. We strongly suggest that you purchase tickets ($20-40)in advance, this is one of those things you dont want to sleep on. You can do that by clicking here
Additional information can be found on the event page.
Now for some Tune-age:
(free download!)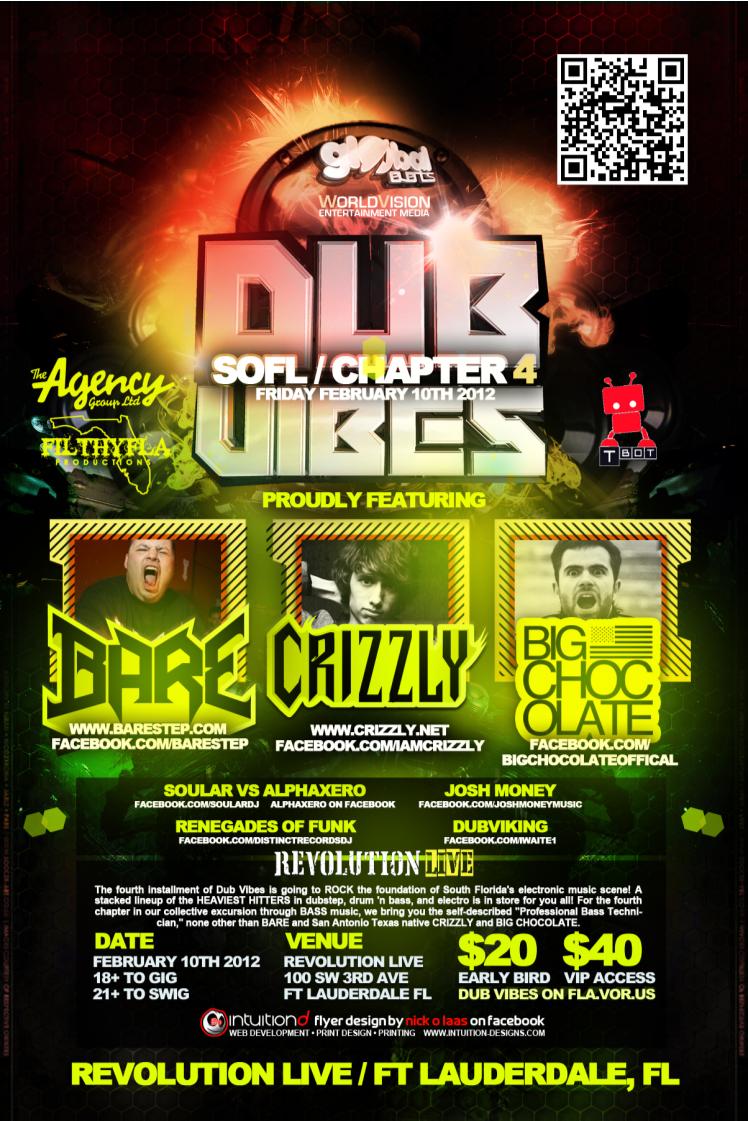 See you there!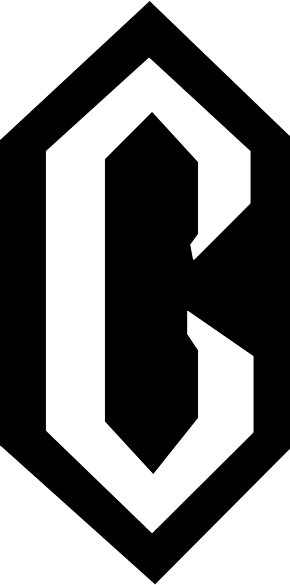 Guess what Dub fans! Crizzly is coming back to Orlando! The original crunk-step Jedi devastated Bassmelt (now OVRKILL) last time he was in town (Jump to the pics HERE), and he's coming back to wreak more havoc on our dancefloors! This time, he's got his homie Protohype in tow, and an entire tour behind him! Even Orlando's own DallasK joins him on a few stops! The Young Gunz Tour is an exhibition of the best and brightest of the 'post-dance-music-explosion' crop of talent emanating from the South and Southeast. It seems the area is a veritable hotbed of up-and-coming producers, and is showing zero signs of slowing. It must be something in the air or water, because the appetite for new, quality dance music is more fervent here than anywhere. Crizzly's own custon brand of Dirty South/Crunk/Dubstep has been making quite an impression around the States, with his sound landing him numerous high-profile gigs, like two separate Electric Daisy Carnival appearances, and even a spot on the creme-de-la-creme of dubstep management rosters, Circle Management.
Here are a few whistle-whetters straight from the Crizzl Nizzl to you. Expect these and more to be dropped with a vengance next Tuesday! Crizz does not dissapoint! And, of course, your local yokels Cliff Tangredi, Joey Paranoia, and myself will be masters of the opening ceremonines! See you on the dancefloor!
AJ Hernz – Snap Back Swag (Crizzly Remix)
Waka Flocka Flame – Hard In Da Paint (Bellizio Remix) (Crizzly Edit)
Crizzly – Bust It Wide Open (Crizzly Remix)
Crizzly – Big Booty Bitchezz
Crizzly & Kids At The Bar – Like Dat
Crizzly – Lifted
Crizzly's Soundcloud
Crizzly's YouTube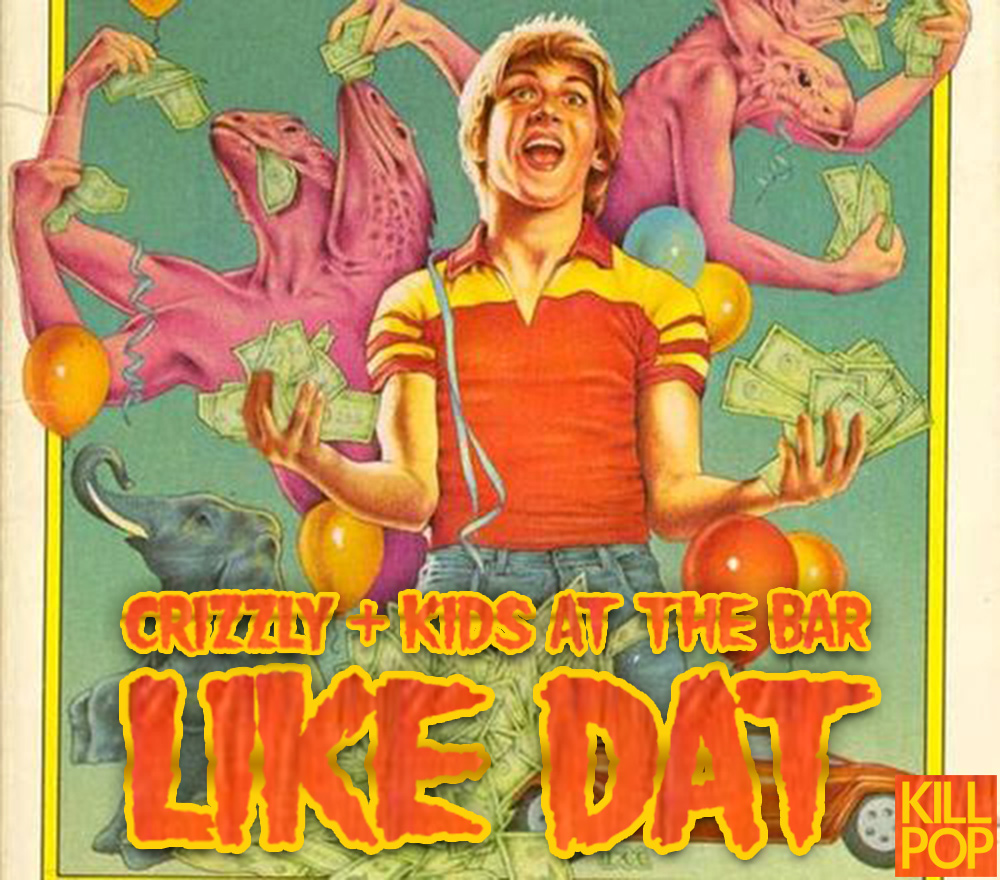 Crizzly and Kids At The Bar pair up to make yet another dubstep track. Listen, I really don't mind dubstep. I mind the naive children who think music is ALL ABOUT DUBSTEP. I don't go out looking for it when I'm blogging but I stumbled upon this track is to good not to give to you. Yeah, GIVE meaning completely free. The beauty of this track is it starts out sounding like a great house anthem. It has really catchy, crowd-pleasing synth, but then the break comes along and completely shatters any thought of that. In drops grin-producing, ear-shattering, dirty dubstep bass, coupled with high pitch synth… Yeah. Awesome, too bad Crizzly didn't have this to play when he was at Bassmelt in Orlando… Can't wait to hear it outloud. Check it out. – Kegg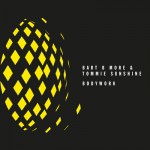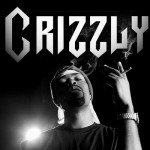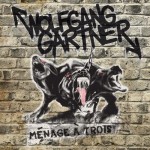 I love Tuesdays… so many good tracks! I have three completely mental ones to share with you, two of which came out today and the other yesterday. They're the kind of tracks that, if you're a DJ and the DJ right before you plays them as their last track, you're probably completely f**ked. Also, Skrillex's new promo video for his forthcoming "OWSLA" project. Here we go:
Bart B More & Tommie Sunshine – Bodywork (Fly Eye Records)
This EP (released 08-01-11 on Calvin Harris's imprint) and its title track are just ridiculous. Old-school acid squeltch everywhere, massive, grimey bass, wicked vocal, deadly drums… It's the peak-time, on-a-couple type stuff Bart B More is becoming famous for. Collabs like this (made with Brooklyn dance legend Tommie Sunshine) and his upcoming EP with Drop the Lime and AC Slater on Trouble & Bass (previews here and here) are solidifying B More's presence and permanence in the American scene as well. We're going to be hearing this track, and this man, out in clubland for a while.
Wolfgang Gartner – Menage A Trois (Ultra Records)
Another stoopid-good banger (released 08-02-11). This track screams from the start, as do many of Mr. Gartner's productions. None quite like this though. It sounds like every game inside a Dave and Buster's came alive, took drugs, and formed some kind of rave music ragtime band. Just ping-y, splashy arcade-like synths, big-room kick-snare combos, and gated white noise. Pretty gnarly. And the breakdown… wow. Not really like anything I've heard before (always a plus). Get it now, but skip everything else Ultra put out that day… trust me.
Crizzly – Lifted (Killpop Records)
Number 3 is a brand new crunkstep gem from our homie Crizzly, the Texas Bass wonder who went hard in the paint last month at Bassmelt. This track samples a bit of classic Wu Tang Clan, truly dangerous territory for any artist. The threat of an army of Wu-purists descending upon you, shanking the credibility out of your track with dis after dis should you do anything but the most honorable of justice to the original, is very, very real. But the Crizzl nizzle comes thru with a summer party crunk bomb. This track makes me wanna pour an Orange Four Loko over a hot girl in a bikini (in slow motion) while smoking a blunt, saggin' my pants, ghostriding my whip, with my dawgs and my dogs chillin' in the background. It's that hood.
And finally, this weirdness from King Skrillex:
What's it mean, MAAANNNN?!
So that's it. There are a bunch of other tunes that came out today (and recently), and I'll get to them as well. But these are the big boys I wanted to share, because I plan on dropping each of them at Takeovr tonight and i want you to come! It's always fun to hear these over a nice club P.A. instead of computer speakers…
One time Chris Lee Marshall, aka Crizzly, was conceived at a Garth Brooks Concert in Ohio and then he made some techno music. This young dubstep prodigy, just started producing and playing about a year ago and I'm dying to hear some of his new filthy shit on the epic speakers that shake your organs at BASSMELT on Sunday, July 17th, 2011! I hate using the word "epic." It's one of those words that has been overused in my opinion, but if you have ever heard the sound on our Sunday night weekly then you would understand that "epic" is the only word that CAN be used to describe the music, the night, and the entire experience itself. He will, of course, be playing alongside your favorite residents Winston Wolfe and Blood Eagle for this night that is sure to be complete ear-bleeding debauchery. Doors are at 10pm and make sure you get there early because the first hundred people get in for only 5 bucks! (it's going to be $10 after that) There is also a "kill the keg" special…which means what you think it means. There are also $3 wells all night! Woohoooo. For more information check out the event page HERE and listen/download the tracks below to pregame your eardrums. I included Crizzly's NEW remix so let's get this party started!
Tthhee Ppaarrttyy feat. Uffie (Crizzly Remix)
Crizzly – Big Booty Bitchezz
Logun – Dat Ass (Crizzly Drumstep Remix)
Lost Woods (Crizzy Remix)
More Crizzly for your research


Crizzly Soundcloud
Crizzly Youtube
Crizzly Myspace