As a huge supporter of local music here in Orlando, I always take the time to listen check out other local artists in the area. Blood Eagle is this amazingly talented duo that I personally feel, like many artists here in town, are immensely under-rated. In case you've been living under a rock, Blood Eagle is this duo, Ivar The-Boneless and Lucy Vardøgr from Orlando, Florida who formed in 2009 out of mutual love for synthesizers, grindcore and obscure dance music. Every time I check out one of their sets, which is pretty often, I get the aural pleasure of listening to the dirtiest, filthiest, most insanely heavy music, that ISN'T dubstep. It's insanely refreshing, because I feel there's this huge misconception that you can't go hard unless you play dubstep, and I feel Blood Eagle crushes that misconception and leaves people wanting more (don't get me wrong, I enjoy dubstep, but it's always nice to step outside of the box). One of the things I enjoy about Blood Eagle and their sets is that there's this heaviness to their music, and yet, it's so danceable. You can rage out with your friends, or you can shake your ass, either way it's always a kick ass time.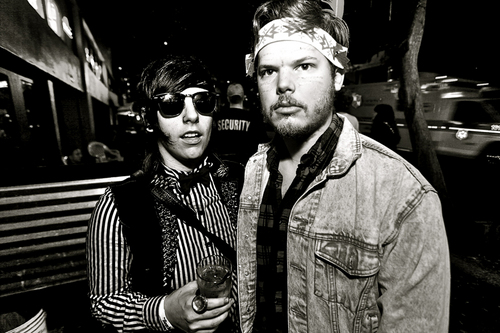 As a music lover, one of the most fascinating things about music is watching how an artist's DJ sets and their original productions match on the same level of intensity or energy. Once I heard "Transvestite Fistfight" it just screamed Blood Eagle to me, and I knew they were well on their way to creating a signature sound. The song's title is quite fitting, the song has this crazy build and then, when it drops, it's like you're being punched in the face with lasers and these crazy and unique synths that I can only assume are coming from a badass transvestite who doesn't take shit from nobody! I couldn't tell you how many times I've heard this track and I always notice something different each and every time I hear it, needless to say it never gets old.
If you're pulling a Walking Dead and awakening from a coma, and have no idea what the hell I'm talking about, educate yourself:
Need to see it in action? Here's "Transvestite Fistfight" being played at where else but the renowned Takeovr:
I have witnessed time and time again, people lose their shit to this track and I HAD to have it. I begged and prodded to snag a copy of this song, with no such luck, I was told I had to wait until it was released to the masses. After what felt like years of waiting for this song to be released, the time has come: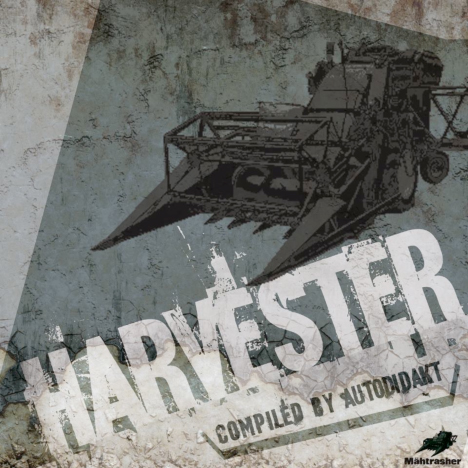 Mähtrasher Records (Stuttgart, Germany) has just released the "Harvester" EP. I'm not sure if German Wheaties are served with a dose of "We like shit heavy" but the whole compilation is an absolute rage-fest from start to finish. #5 on this insanely heavy compilation, none other than Orlando's own Blood Eagle's "Transvestite Fistfight" So what the hell you waiting for?
>Oh the link to purchase to this amazing track?
Well, you can buy "Transvestite Fistfight" individually here:
http://www.beatport.com/track/transvestite-fistfight-original-mix/3292158
OR you can check out and purchase the entire compilation here:
http://www.beatport.com/release/harvester/870825
Already, "Transvestite Fistfight" has garnered support from: Gtronic, aUtOdiDakT, Distrakt, Sawgood, Hanuman Tribe, Killagraham, DallasK, Bankai, Stereoliez, David Heartbreak, Street Lurkin, Devin Martin, Heavygrinder, Defep, Henry Fong, Cahill, & SlaminA. Fuck Yesss (Le Castle Vania & Street Lurkin's residential party in ATL) even included the track in their March 2012 recap video:
As people begin to discover who Blood Eagle is, and they hear the sounds of "Transvestite Fistfight" I can only see this list continue to grow.
Feening for some more Blood Eagle action? Well you're in luck, this Thursday, all of the Smile for Camera artists, which so happens to include Blood Eagle, will be "Taking Ovr" (see what we did there?) Ignition at Firestone.
Consider this a pre-game to the pool party in Miami. Be sure to come to the event and check out Blood Eagle drop "Transvestite Fistfight," you can thank me for the aural orgasm later

Check out the event invite here:
Smile for Camera Showcase @ IGNITION – Firestone Live 03.15.12 FACEBOOK EVENT PAGE
Want to learn more about Blood Eagle? Find out here!
www.facebook.com/bloodeaglemusic