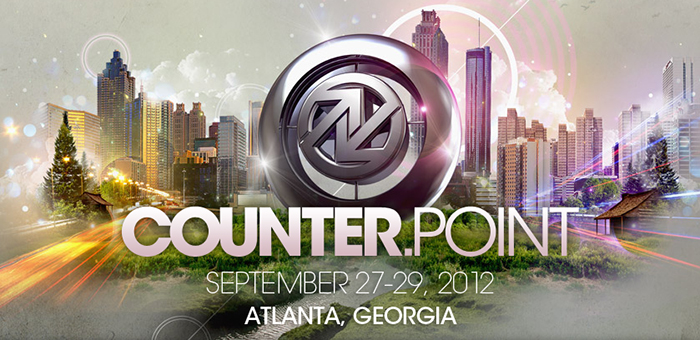 The festival hounds are on the prowl. Surface scavenging for where a few nights of pure madness can occur, we are brought to the boonies of Fairburn, GA. The mania of mankind buying in on Counterpoint Music Festival will erupt in spirit on pastures, in woodlands, and by rivers. The land is exactly 350 acres and runs alongside the Chattahooche River.
The location/lineup mashup sets this event apart from others like it, not to mention it is brand spanking new. The benefit of a new festival is not knowing what to expect. It is simply, in its first year, what the people make it. The twists do not stop there.
Unlike your go-to hot dog cart, Atlanta will be giving us a genuine taste of it's hospitality. Counterpoint is adopting a sense of community by catering the festival with local favored food trucks, breweries, and restaurants. Georgia artists will bring original pieces for sale and an art village will be in place for frolicking purposes.
Joining us again from Bisco, on multiple stages are heavy hitters Crystal Castles, Bassnectar, Skrillex, Big Boi, Zeds Dead, Mimosa, Emancipator, and Lance Herbstrong. Other performers we're excited about playing are:
Toro Y Moi – Consistent on underground and mainstream sources of indie music alike, Toro Y Moi is apart of the chill wave movement of 2010. More specifically, his music is atmospheric, electronic chill vibe, with a 70′s twist, faded vocals, and matching music videos filmed with old cameras. Chad of Toro just so happens to have a close friendship with Ernest Greene of Washed Out, conveniently linking two leading producers of chill wave and bringing us to the next act in review….
Song recommendations: "Blessa" and Beach House cover "Master of None"
Washed Out – With significant national attention in the past few years, once aspiring librarian, Ernest Greene, is now packing out venues with hits originally recorded in his bedroom. The newest album released July of last year received considerable national attention. "Within, Without" placed 26th on Billboard's Top 200 and 89th on the UK's album chart. The single "Feel it all around" opens IFC comedy "Portlandia." Scanning XM radio a few years ago, I came across this song and still it is one of my favorites to this day. Washed Out has also been classified in sub genres such as Synth Pop, Dream Pop, and Lo-Fi. You will find me steady shoulder rocking at this stage.
Song Recommendations: "Feel It All Around" and "A Dedication"
M83 – The uniqueness of this next act is their ability to produce a succession of awe-inspiring tracks and endure ongoing success. With a style that resembles early 80′s electronic nostalgics, one surfs from romantic utters to a calamity of drums and reach the iconic sound M83 has made for themselves. The band has received stellar approval from critics and fans for the new double disc album "Hurry Up, We're Dreaming." Anthony Gonzalez, front man, said it was created as "a soundtrack for a non-existent movie." It made Pitchfork's Top 50 Albums and the track "Midnight City" scored 1st place on the Top 100 Track's list.
Song Recommendations: Midnight City, We Own the Sky
Adventure Club – Clubstep, meets Dubstep, meets Brostep, meets Counterpoint stage. The most accurate description of the Canadian based duo's music is: balanced Dubstep. Songs follow a traditional format of verse, buildup, drop, repeat. The wobbles are not overwhelming or too minimal. It is nothing short of two step worthy and the furthest thing from Grime. A.C has a track record for using samples/songs with sexy female vocals belonging to Emily Haines, Karen O, Giselle and others. When I went to their show in Orlando earlier this year, they attracted a lot of mainstream pop listeners aka those Hollister wearing college guppies not expected at an EDM event. All signs show that Adventure Club can pull off easing a Dubstep noob into this music without overwhelming them (and they love it)! The boys have paid their dues and made their way from DJ Booths to a festival stages. Let's immerse in this diverse audience and appreciate that music is still joining all walks of life.
Song Recommendations: "Crave you" and "Daisy"
Wale – Preparation for this show might involve getting the swish of your chain down pact or investing in a shake weight. There is no doubt that when Wale hits the stage that you will be Repping your new found, or tried and true love for him with your hands in the air. I can not express how stoked I am to see this guy on the same bill as Bassnectar and Washed Out. Sporting a new album under the acclaimed Rick Ross' label, this hip-hop sensation has a reputation and backing for quality. His manager once said Seinfeld inspired a mixtape Wale put out because "the shows dialogue reflects his style of honest lyrics, which references pop culture and politics while avoiding gangster-rap bluster." The track "Lotus Flower Bomb" was nominated for the viewer's choice and won best collaboration. Most importantly, the rappers style can be broken down into catchy, go-go, percussion oriented hip-hop. His flow is fun.
Song Recommendations: "Slight Work", "Lotus Flower Bomb", and "Chain Music"
Pretty Lights – This is your light show recommendation, number one! The original and founding member of Pretty Lights, Derek Smith, debuted this gnarly new set up of LED towers made to look like a city scape, at Bonnaroo 2011. He also owns the Pretty Lights record label that signed other Counterpoint acts like Gramatik, Michael Menert, Paper Diamond, and Break Science. A perk about Pretty Lights is they are infamous for using a myriad of samples, so the music is free to avoid lawsuits. Smith likes to use "Electro Hip-Hop Soul" when describing his music, a compound of electronic music and hip-hop beats.
Song Recommendations: "I Know the Truth" and "Finally Moving"
Ghostland Observatory – Almost every review dug up, new or old, on this band utilizes the words "Love or hate" with heavy emphasis. Unfortunately, whether one finds themselves enjoying the tunes or not, one might be held against your will. Some previous shows had included 16 lasers and sophisticated assemblage of mirrors scattered around to produce visual effects in real time. This should be sure to cease brain activity and over stimulate your vision. Ghostland is a collection of Electro, Rock, Funk, and New Wave. Summary: Ghostland Observatory will provide a top notch light show, crazy vocals, and a syncopated stage set up.. Love em or hate em, but at least bring your sense of humor.
Song Recommendations: "Sad Sad City" and "Give Me the Beat"
Tickets and other information on the festival can be found here at www.Counterpointfestival.com and on facebook.