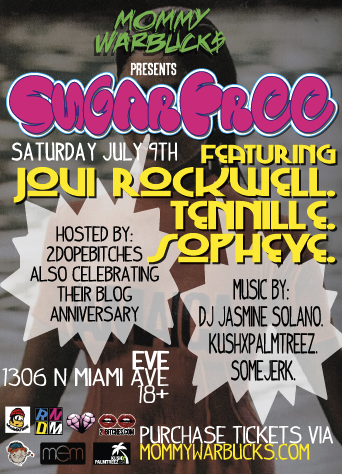 Presented by Randumb Miami, WHOISFATSOE, Faraway Life Media, A Girl's Best Friend, Major Event Marketing, tonight at Eve, Mommy Warbucks and friends put on Sugar Free, a one of a kind event aimed at delighting Miami with Trancehall selections from various artists. Featuring the sounds of DJ Jasmine Solano, Jovi Rockwell, and Tennille and hosted by 2DOPEBITCHES.
Music by:
Sean Bang of KushxPalmtreez
somejerk & Sopheye
For more information on the featured artist go to Mommy Warbuck's post on the event.
EVE
1306 N Miami Ave
Miami, FL 33136
DOORS OPEN AT 10:00 PM
18+