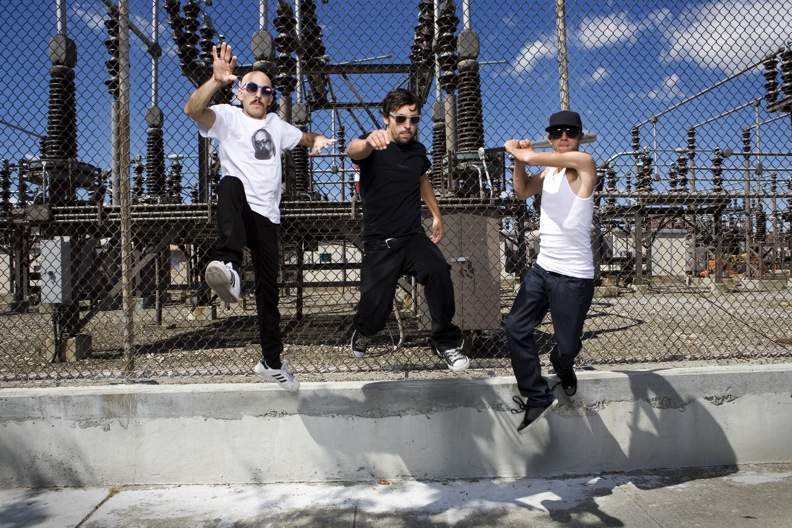 A few months ago I got invited to tag along to a Matisyahu concert. Now, I like Matisyahu, I do, I'd heard of him for a few years, but he was never really one of those artists that I had always WANTED to see. But I went, because it was something to do, and because, well, I wanted to hear King Without A Crown. It wasn't until later that I was told that Les Claypool would also be performing at that show, and that there would also be a little group called Dub Trio playing as well.
Claypool, I had heard of, Matisyahu, I had listened to, but Dub Trio, here was a name that was completely foreign to me, completely unheard of. Yet the little but of research I did in anticipation of the show led to me great things. Not just great; fantastic, amazing things. Here was a band that had Mike Patton perform the only vocals every recorded on one of their records. Here was a band that helped create that recognizable Matisyahu sound, here, finally, after years of waiting, was a band that truly jammed.
They didn't play a set alone at this show I went to, but instead, played the accompaniment to the headlining act. I really don't think that the show would've been as successful had it gone any other way. Given, I didn't know it at the time, but I would've loved to see Dub Trio perform live, and performing their own material.
A Dub Trio live set is nothing short of epic. In an interview I recently had with the band's Drummer, Joe Tomino, he explained to me how using a series of delay pedals and microphones as well a "sonic arsenal" of other pedals and gadgets that the band has acquired over the years, they aim to "reproduce the sounds they heard on all those early dub records". And while its not exactly the simplest looking job in the world, Tomino assures me that "its not that mystifying."
Yet, they have been described as playing everything from Dub, to sludge, to doom, to stoner rock, to math rock (I don't know either), yet their sound remains genuinely distinct. The band released three albums on the New York City Based ROIR Records before singing onto Patton's Ipecac label that is also home to artists such as Dalek, The Melvins, General Patton vs. The X-Ecutioners and Tomahawk. They have plans too release their fifth studio album late this year, or early next year, and hope to be able to work on more remixing and producing, as well to continue touring, hitting up Europe, Japan and Australia later this year with Matisyahu, where they will also open most of those shows as dub trio. I suggest you catch them if you can.
And make sure to keep an eye out for the remix the group recently did for Brooklyn Band, Candiria. Its on an Ipecac mix which features remixes by Dalek, Pole and others.
SFC: What was it like to perform with Mike Patton? Got any stories you want to share?

DT: Working with mike was great. Its always good to work with somebody on that level, musically and artistically, who's maintained integrity throughout their carrer. Mike's also a great supporter of creative music, which gives a band, like dub trio, who's playing instrumental dub/noise/metal/etc, hope. As for stories, just make sure your pockets are fat if your going out for a dining experience with that man.

SFC: How do you describe your own music?

DT: That's always a difficult question to answer. It's really only drum, bass, guitar, and bunch of electronics. Musically, we've never discussed what we were going to sound like or styles we wanted to incoroporate into our sound or concept. It's always funny reading press or show descripttions for a dub trio show…some words that they use are; dub, metal, ambient, noise, doom, stoner, math rock, electronic, instrumental, sludge, reggae….just to name a few.

SFC: Your sound has slowly gotten heavier and heavier over the last few albums you've released. Was this an intentional move that you decided early on in your career or did happen by fluke?

DT: Never intentional, but it is a music that we rediscovered, collectively as a band, that seemed to naturally work its way into the writing process.

SFC: What kind of equipment do you use in your live set? Is it a different setup than what you use in the studio?

DT: Live, its just guitar, bass, drums, electroincs (sampler and effect pedals), and sometimes keyboards. The setup is similar in the studio, but the approach if much different. 90% percent of the time, we approach recording the way it was done in the early dub recording. Bascially, tracking the song first and then doing all the "dub" after everything is tracked in post-production. However, live we do everything in real time (no sequeces or loops).

SFC: Does playing different musical styles for different artists affect your own music at all?

DT: Its hard for it not to, but a composition is a conscious decsion we make. We are only a product of experiences, individually and collectively, and any musical situation you play in for an extended amount of time is going to influence you in some way.

SFC: What kind of Musical background do you have as individuals, growing up? What do you share as a group? Does this background affect what you play now?

DT: We all come from different musical backgrounds. We all grew up listening to rock, but didn't play much, or any, during our college years, stu and dave come from a more funk and r&b background. I guess i come from a more jazz and experimental background. But we've spent so much time together since we began playing, that we've all had a heavy influence on each other.
SFC: What influences do you draw from to create your unique sound?

DT: Influences can range from seeing good live band, hearing a great recording, a good meal, a piece of art, a great song, a good bottle of wine, a good coversation. We would never limit our source of creativity. Be open to any experience, you never know what may come out of it.

SFC: If your band were an organization/company, what would your mission statement be? Your main goal?

DT: Hmmm….maybe a seat belt or airbag company. Our mission: saftey first. Another idea could possibly be the
reform of options and quality of food and coffee on highways across america. Our mission: quality of life

SFC: What are the top three songs in your 'most played' playlist?

DT: Dub trio playlist: not for nothing, casting out the nines, and one man tag crew. Personal playlist: tell me what's on your mind – cyril neville, words – missing persons, go with the flow – queens of the stone age.

SFC: What philosophy or method do you use to create your music?

DT: Stay open to any idea. Try anything if it makes sense or not…you never know what you'll stumble upon.

SFC: If not this, what would be doing?

DT: Cooking, editing film, growing grapes and making wine, sound design or film scoring.

SFC: How did you come about working with Matisyahu?

DT: We've been friends with matisyahu for a couple years. We've also played in bands with some current and former members of the band. Dub trio did a few gigs opening for matisyahu in december of 2007. Early this year we played a completely improvised gig with this current band and something really clicked. Two months later we played our first gig at a festival in california opening for the flaming lips.

SFC: What's the biggest thing you aim to accomplish during a live show is about the performance, the music, the stage setup?

DT: Having the music translate from the way we play onstage to what comes out of the sound system. Even though we control all the sounds you hear at a show, a good live sound engineer can make or break a good gig. We have a lot of sounds (sonically and textrually) coming from the stage and a good mix is essential for a proper dub trio experience. The music is first and foremost, aesthtics are an afterthought with this band. They inhance, but aren't integral.

SFC: Now, Answer Quickly:
You haven't lived until: SKYDIVED OR EATEN DINNER AT PER SE
Favorite Touring Food: IT'S DIFFERENT IN EVERY CITY AND COUNTRY. THANK GOD FOR URBANSPOON.
Best joke you can remember that you heard lately: I HAD AN ANT FARM…THEM FELLAS DIDN'T GROW SHIT – MITCH HEDBERG
Sabbrett's or Nathan's? NEITHER, UNLESS THEY'RE VEGGIE.
What are you guys wearing in your 6th grade yearbook picture? PROBABLY A MOTLEY CRUE TSHIRT AND ACID WASHED JEANS.
Best band of all time? THE SHAGGS
Best song to sing in the shower: ON THE WINGS OF LOVE – JEFFREY OSBOURNE
Video for Mortar Dub: