Before I begin, I just want to say that Blood Eagle should just hire me to be their official blogger or something, because I only get the itch to blog here on SFC, when I hear their latest music and I wanna share it with the world!!!! (Clearly I'm a huge fan, but I'm serious, I'll be Blood Eagle's official blogger for free, I don't care. I don't even blog my OWN music on here… it just seems… I dunno… wrong? and narcissistic, but I digress…)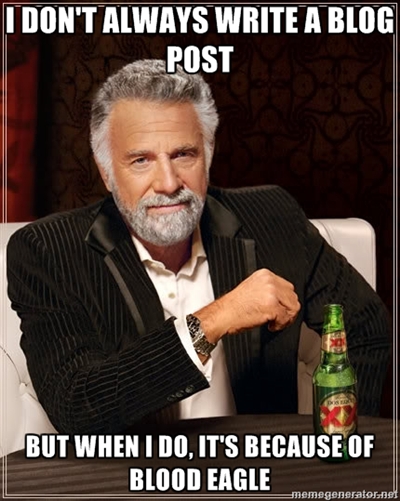 Let's get back to why we're here: Blood Eagle. They're latest track PGRM has been catching the attention… of well everyone. When you hit play "Watch Your Back" are the first words you here when you play this insane Acid Trash song…
Blood Eagle – PGRM (Original Mix) **FREE 320 DOWNLOAD** by BloodEagle
Is Blood Eagle providing us with some solid advice… or some sort of warning of what's to come ahead for this track?
As the track builds and hits its first drop, "Watch Your Back, Cuz I'm Fucking Up Your Program!" you hear signature Blood Eagle sounds and this awesome techno beat that gets your head bobbing and those hips a shaking. It's quite nice and enjoyable to the auditory senses, I must say. Then you hit the second build… man oh man: it's so intense, so exciting, so… perfect… and the second drop compliments the build way too well. You can't help but go ape shit, something I feel a lot of people can't help but do when they hear any Blood Eagle track. What I love about this track is it delivers the massiveness that is Blood Eagle, but it's so smooth and mixable at the same time. It truly does not disappoint.
What I love even more? This track is F-R-E-E, FREE! Everything, even the most amazing things in life, are a million times better when it's free. Like Free Bacon, Free Chocolate, & some Free Iced Coffee, that's like ultimate food porn to me. But enough about food, if you know what's good for you, then you'd go snag a copy of that shit now.
You might as well consider PGRM to be an appetizer of what Blood Eagle has in store for you:
SKRAECKOEDLAN (which means horror lizard) is being unleashed to the world on May 26th through ALLCAPS Records. This EP includes an original track by Blood Eagle themselves, as well as remixes by Meaux Green, 3dNOW!, AJ Orbit, Dope Arcade, and RRRitalin. (Side note: Can we give props to Austin James for the sick ass artwork? I mean, how awesome is the EP cover? If you'd like to see more, check out Wet Brain) If you've caught any of Blood Eagle's latest gigs, then I'm sure you've heard the original track.
If you haven't caught Blood Eagle out and about melting faces and taking names:
1.) What the hell is wrong with you?
2.) You're lucky I like you… not like you, like you… ummm I thought we were just friends… [awkward silence]… dammit, just listen to the preview here:
Blood Eagle – Skraeckoedlan (original mix) //ALL CAPS// OUT 5/26 by BloodEagle
and
3.) You're in luck, because Blood Eagle has some gigs coming up all throughout Central Florida:
June 2nd, 2012: You can catch Blood Eagle sharing the stage with Lady Tron, Mustard Pimp, alongside Orlando's own DEFEP and Milo & Otis in St. Petersburg for the Downtown Digital block party.
June 6th, 2012: DISCO FUCKING BLOODBATH: Blood Eagle's monthly residency. If you don't know, Disco Bloodbath is this insane costume party, with these amazing & sexy dancers, amazing music, and of course blood.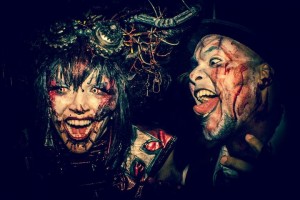 You can see pictures from the April's Disco Bloodbath HERE. I've gone for April and May and there is nothing else like it in Orlando… probably in the whole state of Florida to be honest, possibly in the dirty south?
And while I'm on the topic of gigs, I might as well add that Blood Eagle has been added to the very talented Absence Agency roster alongside: Le Castle Vania, Xkore, Haezer, F.O.O.L., Street Lurkin, Tommie Keeston, Trumpdisco among many others. This is major, so I highly suggest you check out Blood Eagle now before they're touring the world.
That's all I got for you folks today! If you're not satiated, trust me, I understand, be sure to check out these links for more information:
http://soundcloud.com/bloodeagle
http://www.facebook.com/BloodEagleMusic
http://www.twitter.com/bloodeagle
For all our future booking inquiries please visit:
http://www.absenceagency.com/requests/
<3 Ma-Less