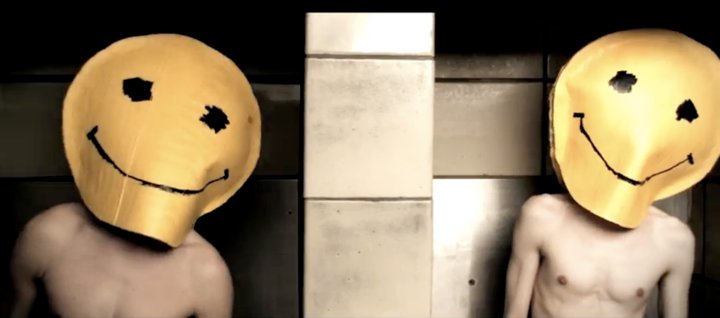 Demolition Disco isn't exactly like every other DJ duo out there. You can tell that these two don't exactly like being bored. Today they officially released their brand new EP 'Big Mama' on Riot Riot Records, with Remixes by Aerotronic, Stereoheroes, Junkietron, and more.
If that wasn't enough, they made a music video which won first place in the Mexican International Film Fest 2011. The video was directed by KRONCK, who are two inspiring fresh and high talented filmmakers also from Munich, and produced by Ivory Productions and Voilá Film. They had a crew of about 60 people involved into this one, from cast, actors, visual & makeupartists, to lighting, camera, cutter and so on.. and reading most of the reviews people think it's a little "weird." I think it's fucking awesome and it's down below for your viewing pleasure, BUT FIRST, I was able to get a quick interview with Richard, one of Demolition Disco, so read below what he has to say about their new AWESOME EP and video.
SFC: Who is Demolition Disco?
Richard: Demolition Disco has been founded in 2008 by Paul and me. we are two music producers. we did a lot for advertising and we have produced other musicians. Paul is a good friend of mine since ten years. we are living in Munich.

SFC: Is 'Big Mama' your first EP?
Richard: Yes it is.

SFC: Your first release has two parts and 6 different remixes by 6 different artists, how does it feel to start off with something on such a grand scale?
Richard: it is a great feeling to know that other artists support your project. we really had not expected that. but obviously our project works and that is amazing! by the way, there are 8 different remixes Remix Artists: STEREOHEROES, AEROTRONIC, CAPTAIN FUNK, JUNKIETRON, ACCESS DENIED, B-PHREAK, HANUMAN TRIBE, SOLID FRAME

SFC: What was it like to shoot a video so awesome? I mean, it did win awards in Mexico.
Richard: fucking great! i can tell, the shooting has been as crazy as the video clip itself. we had so much fun, really everybody

Quick Questions!
SFC: How does sex work from start to finish?
Richard: with passion and belief!

SFC: Can blind people see their dreams?
Richard: dreams are in your mind and heart, not in your eyes. so i guess i would say yes they can!
Demolition Disco – Big Mama (Solid Frame Remix)
They're Big Mama EP Part I and II are available now on Beatport and lucky for you there is a free dupstep remix of the 'Big Mama' track by Solid Frame above and this weird/amazing video below.

.