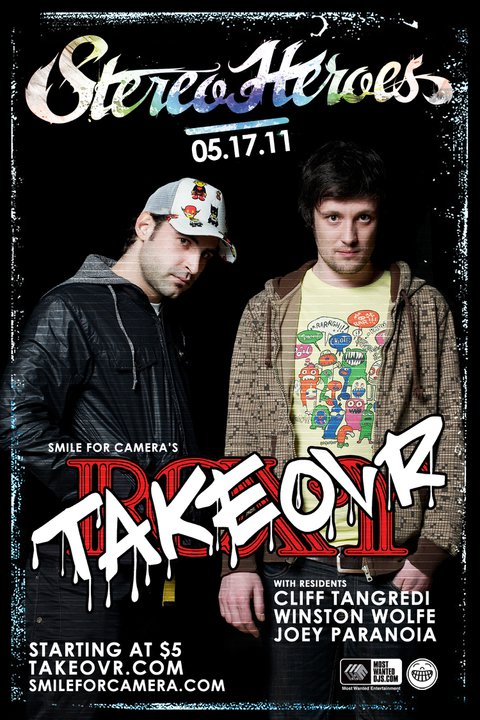 I would start this post off with "The Stereoheroes are back!!" but they never really left now did they? Stereoheroes have kept in touch and have been posted on our site month after month with all their new original tracks, remixes, and even last February, they did an Exclusive Conspiracy Mix for us here at Smile. They've been keeping busy over in France and now, over a year later, they're going to back stateside and of course they're going to be stopping in Orlando for a visit.
When I was doing some quick organizing; finding all the links and videos etc. that smile has on the Stereoheroes already, I stumbled across the video from the first time the Stereoheroes played Takeovr. Check it out directly below and then imagine what type of mindfuck-party it's going to be, only a little more than year later, with a completely different set of resident DJ's, new crowd, new vibe and the new and old Stereoheroes sound… Let's just hope someone doesn't die and that the fat girls keep their clothes on.

Takeovr Facebook Event
Here's all the money details you'll need: 21+ $5; 18+ Chicks: $10; 18+ Dudes: $15
No Guestlist for this special event
TakeOvr – Stereoheroes from Jared Serfozo on Vimeo.
I wasn't joking when I said the boys were busy. Recently finding a perfect home with the louder than hell label Freakz Me Out, the StereoHeroes are about to unleash their latest audacity 'Exiles' on the German based banger electro haven. In the past two weeks alone the Stereoheroes have released 3 new remixes which I have for you to preview below. Each one has a different type of awesome sound. If that wasn't enough, SH have given me the permission to post their Amp Live – "Hot Right Now" remixes for free download below. I hope to see all of you, not remember you on yet another Tuesday night in Orlando on May 17th, 2011.
Amp Live – Hot Right Now (Stereoheroes Club Remix)
Amp Live – Hot Right Now (Stereoheroes go Dubstep Remix)
DEMOLITION DISCO – "Big Mama" (StereoHeroes Remix) – out 2011/04/22 by riotriotrecords
Nasser – Marseille And Anywhere (StereoHeroes Remix) by stereoheroes
UTOK2ME? – Volodia (StereoHeroes 'Punisher' Remix) by stereoheroes
STEREOHEROES
They come from France.
www.facebook.com/Stereoheroes
www.stereoheroes.com
www.soundcloud.com/stereoheroes/
WANT MORE HEROES?!
Intereview: Your hero, my hero…Stereoheroes. (August 2009 *old school*)
Stereoheroes – The Lost Generation EP (October 2010)
Stereoheroes – Flash in Punk Mixtape (June 2010)
The Hijack Brothers – Vengeance (StereoHeroes Remix) (June 2010)
StereoHeroes feat. Da Chick – Action Pack (Laser Trip) (April 2010)
Photos: Stereoheroes @ Takeovr (March 2010)
Photos: Stereoheroes @ Takeovr (February 2010)