Have you ever wondered what The New Yorker's comics would look like if Tim Burton illustrated them? If so you maybe interested in the works of Edward Gorey. He was the author and illustrator of over a hundred macabre books and was a major source of inspiration to Tim Burton. Although, his humor was dark it was exquisitely droll. Gorey's influence on Burton is most apparent in his book The Melancholy Death of Oyster Boy & Other Stories.
Tim Burton is hardly the only person who was inspired by Gorey. The Internet is teeming with Gorey fan art, including a rather humorous retelling of the classic Star Trek episode The Trouble With Tribbles, complete with Goreyesque illustrations and captions. The popular webcomic The Perry Bible Fellowship has also paid homage to Gorey. More notably, Nine Inch Nails' music video for 'The Perfect Drug' was deliberately crafted to resemble his illustrations.
Last year Marvel released a series of fine art comic covers to commemorate the 35th Anniversary of Wolverine. Gorey's style was used in this campaign. The styles of Dali', Picasso, and Van Gogh were also used, thus garneting prestigious company to his name.
The Orlando Museum of Art is currently showcasing a large collection of Gorey's pen-and-ink illustrations in an exhibition titled "Elegant Enigmas: The Art of Edward Gorey". The exhibit runs through the end of the month.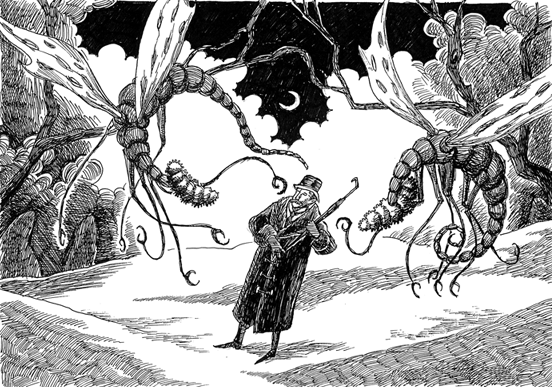 Orlando Museum of Art
2416 N. Mills Ave.
August 13 – October 31
10am – 4pm Tuesday – Friday
12pm – 4pm Saturday & Sunday
Admission:
$8 Adults / $7 Students
- Jon Bergquist