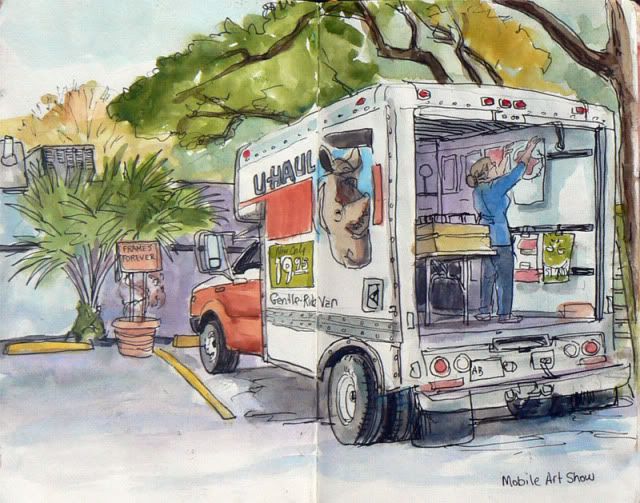 When it comes to New Year's resolutions, most people chose something intangible. However, when you share part of your namesake with a Nordic God, it seems nothing is intangible. Thomas Thorspecken's New Year's resolution for 2009 was to go out and sketch something everyday for the entire year. All in an elaborate attempt to lay roots in Orlando's art community.
The result: He succeded. Not only did Thorspecken manage to sketch something everyday in 2009, his name has become synonymous with art in Orlando.
And Amazingly, he still continues sketching even though he originally intended this to be a one year long endeavor. Perhaps the most interesting aspect of his sketches is that he seems to be willing to sketch anything. Whether it be one of Brian Feldman's performances or a dive bar full of Packers fans; if it's happening in Orlando (or somewhere Thorspecken is vacationing) there is a chance Thomas Thorspecken will be there to capture it all in his sketchbook.
Earlier this year he held a small retrospective at Dandelion Communitea Cafe featuring his 2009 sketch books. If you missed it and would still like to see his sketches in person, you're in luck. On March 18th, Thorspecken's work will be on display inside a U-Hall parked outside of the City Arts Factory. The U-Hall itself is sponsored by TheDailyCity.com and is an official venue for the monthly 3rd Thursday Art Walk. In addition to his sketches, Thomas Thorspecken has a handful animation department credits in Disney films, such as Lilo & Stitch and Mulan.
- Jon Bergquist
Event Details:
Date: 03/18/10 (Thursday)
Admission: FREE
Address: 22 East Pine Street
(just look for the U-Haul parked across from City Arts Factory)
View Thorspecken's sketchbooks online